The Tour de France might be the biggest stage race in the world. But for UAE Team Emirates, there's the sense that the Giro D'Italia, which starts today, is more important.
A home race, even, which might sound odd given the United Arab Emirates are plastered all over their jerseys. But UAE Team Emirates was, until last year, Lampre Merida – Lampre being an Italian steel company. The general manager is Giuseppe Saronni – an Italian who won two editions of the Giro D'Italia. Five of its six sporting directors are Italian, and its operational HQ is in Magnago, near Milan.
So it's no surprise that the main language spoken is Italian – former Team Sky rider Ben Swift has said he's had to brush up on the language – and, indeed, that Swift rides a Colnago bike, made in Cambiago, Milan (although some of the range are manufactured in Taiwan).
Now that there are no Italian world tour teams, UAE Team Emirates is about as good as it's going to get for fans of Italian cycling, particularly given six of the nine man team are from the country.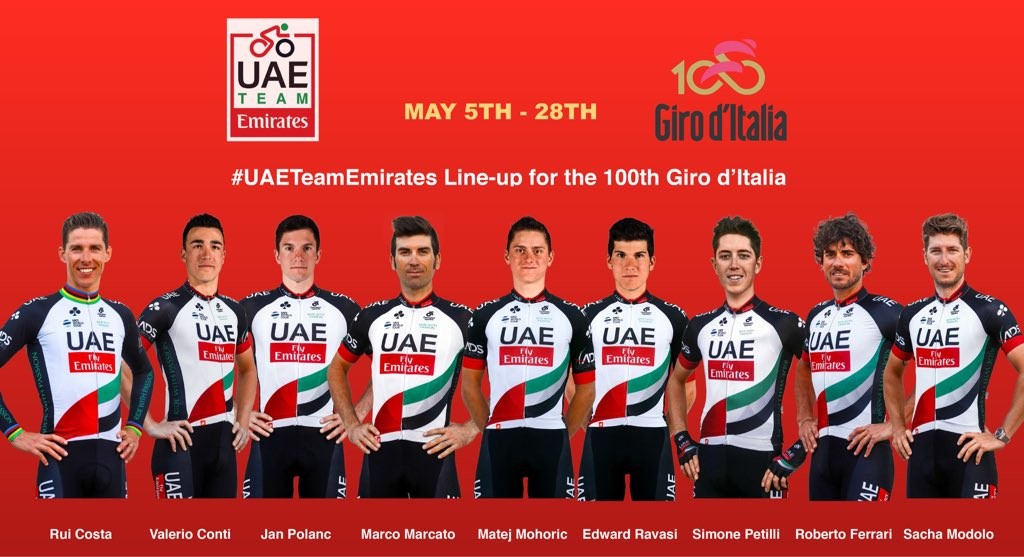 So can UAE Team Emirates make Italians proud in the 100th Giro? The team has been built to search for individual stage wins rather than the overall classification, but Portuguese climber and former world champion (in Florence) Rui Costa certainly believes he can win on the uphill stages in his first Giro.
"I believe that there are some stages with courses that are suited to my strengths. I've recently undergone altitude training on Mount Etna in preparation for the Giro. Of course a victory during my debut in this special edition of the race would be incredible and I will give it everything I have to win some stages this year," he says.
From a debutant to someone who has tasted victory at the Giro before – twice. Sprinter Sacha Modolo won two stages at the 2015 Giro and dreams of donning the Maglia Rosa, if only for a short time – which means he might be someone to look out for over the first weekend.
"I am hoping to be the leader of my nation's race and be able to don the Pink Jersey. We have a strong line-up and I am relying on a team effort to put me in a great position for the sprints".
The Slovenian Jan Polanc also won at the 2015 Giro in a medium mountain stage to Abetone, breaking away on the final ascent and winning by more than a minute. So the way this year's Giro has been planned, with the main climbs in the last week, he may have an early chance too.
Costa, Modolo and Polanc are joined by Italians Valerio Conti, Roberto Ferrari, Marco Marcato, Simone Petilli and Edward Ravasi with Polanc's Slovenian compatriot Matej Mohoric completing a young team.
"We have tried to strike a balance in selecting the sprinters and climbers for the team," said UAE Team Emirates Sporting Director Orlando Maini. "Rui is a top rider and does well in all of the races he takes part in.
"We've had a good run up to the Giro with a strong squad and the preparation has gone well. We want to get the best performance possible and try to win some stages, if not the race."
Check back here every day with news of how UAE Team Emirates are getting on at the Giro D'Italia.