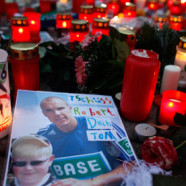 Oct

18
Tags
Related Posts
Share This
WILLIAM HILL SPORTS BOOK 2011 LONGLIST
Somehow I've only just seen the William Hill Sports Book 2011 longlist. I've read, er, four out of the 14, which, trust me, is quite impressive. Those being…
The Bicycle Book by Bella Bathurst (HarperPress)
A general, globe-trotting look at the appeal of, well, you've guessed it, the bike. I spoke to her about it for The National back in the summer, and it's a really enjoyable 'ride'. Ahem.
The Ghost Runner: The Tragedy of the Man They Couldn't Stop by Bill Jones (Mainstream Publishing)
I reviewed this one for Metro in July. And Metro don't put their book reviews online. Here's what I wrote…
As the countdown to the London Olympics enters its final year, it's telling how many interviews with the well-renumerated athletes who will participate are plastered with advertising and sponsorship. But to understand a sheer passion and desire to be the best, to run for the sake of running, they would do well to take in the story of John Tarrant. Tarrant is not a household name. He died of cancer in 1942 and never ran for his country, even though he was one of the most talented athletes of his generation. But, while researching a different documentary, Jones came across "The Ghost Runner", a man who was barred from competition because he'd once accepted money for a boxing match. It didn't stop him; Tarrant would gatecrash road races all over the world, lead them for miles and then melt into the background again. Tarrant actually wrote his own – apparently awful – biography before he died, but Jones fleshes it out and isn't afraid to paint a picture of a man obsessed to the point where, sometimes, he comes across as loathsome. It's a fantastic story of the underdog, unflashily written – as befits its heroic subject.
Racing Through The Dark: The Fall and Rise of David Millar by David Millar (Orion)
Also reviewed for Metro. I really wanted to speak to him about it too – David Millar is a bit of a cycling hero of mine. But alas, publishing 'territories' put paid to that…
When an enraptured cycling fan watches their hero battle the limits of physical and psychological endurance to win a mountain stage in the Tour De France – or indeed take one of the Grand Tours outright – there is something utterly depressing about finding out days, months or even years later that it was all a drug-induced lie. Pro cyclist David Millar cried when he was told that one of his favourites, Alexander Vinokourov, had tested positive for blood doping. It wasn't, as he says in this excellent autobiography, because he felt sympathy for the Kazakh cyclist (as was widely presumed in 2007). The tears came as Millar finally understood what he had done to the sport he loved. For Millar was a doper himself.
Racing Through The Dark is Millar's side of the story – how an idealistic young man with dreams of winning the Tour De France "clean" (and he did win stages in that fashion) finally gave in to the professional demands of his team and decided to "prepare" for a race in the way of many of his doped-up peers in the peloton. In so doing, cycling became a job rather than a sport, and there's a strong sense in this fascinatingly honest and well written book that it was actually a relief get caught – as he did in 2004.
This is where the book is most interesting for the non-cyclist. During his two year ban, Millar falls off the wagon spectacularly and there's a kind of heroism in the way he pieces his life back together slowly but surely, becoming a poster-boy for the pleasures of a clean sport. That doesn't mean that he names names as far as drugs cheats are concerned – which one imagines he could, lawyers permitting. But in any case, this is a very personal journey to redemption, and surely one of the sports books of the year.
A Life Too Short: The Tragedy of Robert Enke by Ronald Reng (Yellow Jersey Press)
Which I also reviewed, but only this week so you'll have to wait for Wednesday's Metro to see what I wrote. But it is absolutely brilliant.
I'd like all of these to make the shortlist, and I think the latter three might – Bella's book is good but a little too much like a lot of other books by cycling obsessives. And I'd also really like David Millar to win the whole thing, but I doubt whether he will when a no-holds-barred memoir won last year too. So it's Ronald Reng's biography of tragic German keeper Robert Enke (he committed suicide in 2009) for me. It's certainly made me see professional football in a different light.
The shortlist is announced on October 28. In the meantime, have a look at what I wrote about last year's prize in The National.