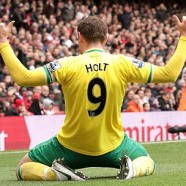 May

15
Tags
Related Posts
Share This
Why Grant Holt should go to Euros, in 5 goals
Full disclosure, I'm a Norwich fan. But having had the pleasure of watching Grant Holt for three seasons now actually makes me more and more convinced that he could do a job for England this summer… if given the chance. I seriously doubt whether he will be, because Hodgson probably doesn't need the grief from the press if he picks a 'barrel chested former tyre fitter' rather than someone who plays for one of the 'big clubs'.
But beyond the fact that he is without doubt the most on-form striker in the English Premier League this season behind Wayne Rooney (and he can't play for the first two games), what you'd always get from Holt is 100 per cent effort. Isn't that what fans and the press have always argued that the England sides of the last ten years lack? And to those who say he wouldn't be able to do it against the big sides, do Manchester United, Liverpool, Chelsea and Arsenal not count?
Anyway, just in case Hodgson needs reminding before he makes his final selection tomorrow, here's five goals which prove that Holt isn't just a battering ram forward. He's an intelligent, skilful and intuitive battering ram forward…
1. He'll convert crosses (vs Liverpool, October 11)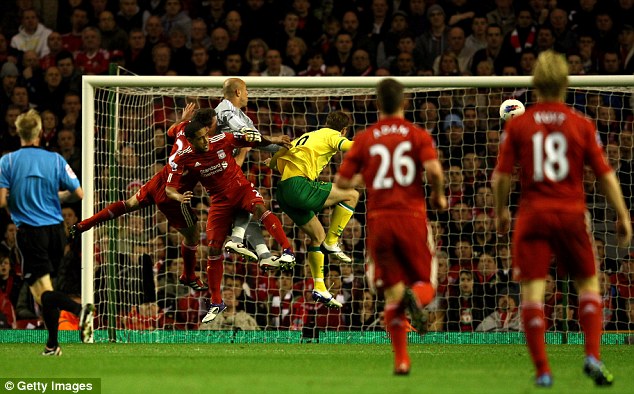 Ok, we'll start with the traditional view of Holt: that he's simply a big target man who lives on crosses. Fair enough. But his goal against Liverpool was not just a classic centre forward's header, it showed incredible bravery, determination and desire to beat not just the defender but the onrushing goalkeeper too. Given the right service from England wingers, Holt could be a real threat – remember how Napoli basically collapsed when Chelsea tried this exact tactic in the Champions League.
2. He can score technically brilliant goals (vs Wolves, March 12)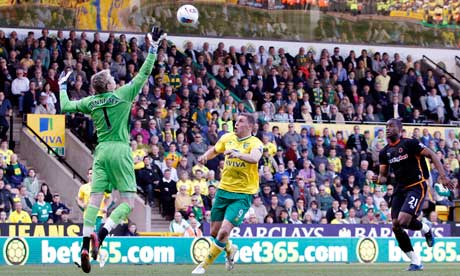 Last season, I had the pleasure of seeing Holt score one of the most spectacular half-volleys I think I've ever seen; against Burnley the ball was bouncing almost waist-high but somehow he got his knee over it and speared a fantastic shot into the net from just outside the area. That was against Burnley, I know. But this season he showed icy nerve when bearing down on goal to lob the ball over the onrushing Hennessey and then head the ball into the empty net. It was genuinely Messi-esque. Even Chris Kamara said so…
3. He can be a fox in the box (vs QPR, November 11)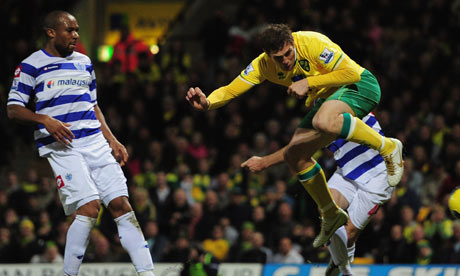 Defoe aside, there's not really anyone in the current England squad who will do anything to squeeze the ball over the line. I've lost count of the times Holt has scrappily converted a half-chance – even the goal against Villa on Sunday was off his shoulder. But the best example of this was the winner against QPR last autumn. I'm still not sure whether he meant to head it, volley it, or indeed whether he actually headed or volleyed it. But the point is, it went in.
4. He makes great runs (vs Arsenal, May 2012)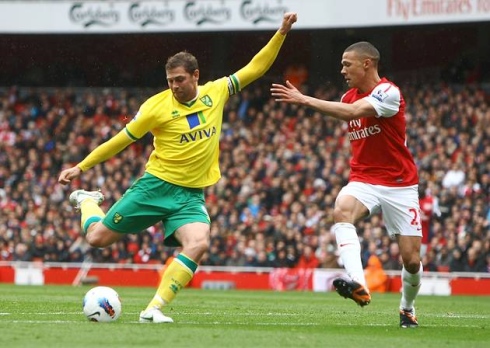 Holt is actually a far more intelligent footballer than he's given credit for. It's not luck that he appears to be in the right place at the right time more often than not, he's actually got much more pace and positional awareness than it at first appears. Take the goal at The Emirates earlier this month which put Norwich into the lead. Ok, the actual finish owed a lot to a deflection off Gibbs, but earlier in the move Holt flicked the ball onto Howson on the left hand flank. Seconds later, he's sprinted 50 yards to pick the ball up on the right hand side of the area, and is readying himself for a shot. Not for long, I imagine, but there is actually a link to the video of this goal here
5. He can create goals for others (vs West Brom, January 12)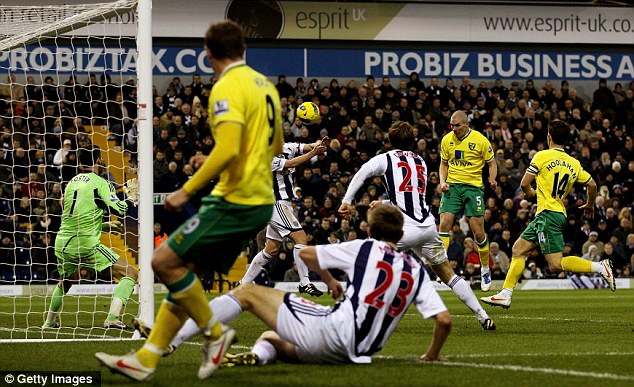 The final goal isn't even one of Holt's. Maybe because he's done his time up front, Holt knows better than most what kind of service a fellow striker needs. He only has two assists this season, but I'd like to think that's because his team-mates haven't finished glorious chances more than anything else. But one of them sums up what Holt can do with the ball at his feet. Against West Brom Holt collected the ball in his own half  and actually passed it back to Naughton before peeling off his marker and sprinting down the left flank. One lovely pass from Naughton later and Holt was bearing down on the West Brom area. A quick look up and he provided the perfect chipped cross for Morison at the back post. One bullet header later, the Canaries were going home with three points.
So there you have it Roy. Picking Grant Holt isn't a gamble. It's the obvious choice.