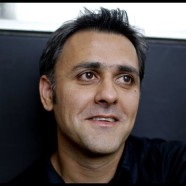 Nov

10
Tags
Related Posts
Share This
WHERE SHAKESPEARE MEETS THE SUBCONTINENT
>> It was fantastic to see Daljit Nagra's name among the shortlisted poets for the prestigious TS Eliot prize. He has one of those brilliantly fresh voices which periodically shake up the form – new collection Tippoo Sultan's Incredible White Man Eating Tiger Toy Machine!!! is a poetry book for people who don't buy poetry books. Not that it's any less literary than the likes of Carol Ann Duffy or Alice Oswald, but Nagra's "Bollyverse" style is brilliantly exuberant and great fun to read. The first poem is a case in point – an update of Romeo And Juliet called The Balcony Song Of Raju And Jaswinder, it has this wonderful set of lines:
Go away dirty boy, yoo is bad bad lover
we danced in di car to Bally Sagoo
on di way from Henley to Sutton Hoo
and I luv it up di flumes of di Alton Tower
Immediately, we're in Daljit's unique world, where language and culture trips over and into one another. So it was really interesting to talk to him about the book, his upbringing in Yorkshire as the son of Indian immigrants, and his thoughts on colonialism, race and language.
"People don't speak standard English in neat, ordered sentences, do they? So I wanted to try to capture that, make people feel confident that the English they speak is just as legitimate."
Click here for the full interview with Daljit Nagra in The National