Away from journalism, I also help businesses with their media profile and strategy. I've been working with Leigh Sports Village, an 11,000 capacity community facility in the borough of Wigan, for a number of years to improve their visibility in local, regional and national media. Through a linked press, website and social media strategy we've had some fantastic results, including a stadium-record attendance for the Rugby League World Cup game between Tonga and Cook Islands in November 2013, helping to make Elton John at LSV a 17,000 sell-out in June 2014, and securing Manchester United's home games in Premier League 2 and UEFA Youth League.
I also directed the redesign of its website, which has had fantastic results.
For more on my work at Leigh Sports Village please click here.

I also have some clients in the education sector. I've been working with Altrincham Preparatory School for a few years now to update and modernise the tone and feel of the content on their website and print publications. I now help the school with their media strategy in the local press – sending press releases and stories – as well as advising them on social media and communications with parents.
For more on my work at Altrincham Preparatory School, please click here.
I started out as Project Communications Officer for a new free school, West Didsbury CE Primary, back in 2014. Working on setting up a school from scratch was fascinating and challenging, and I worked on implementing a communications strategy, helped design and populate its website, wrote a prospectus and engaged the local community to ensure the school had enough applications for September 2015. The school opened in September and has quickly become the pride of the local community.
Through my work at West Didsbury CE, I was then employed to work on Didsbury CE Primary's website revamp and have recently begun advising St Wilfrid's CE Primary in Northenden, who are currently proposing to join the St James & Emmanuel Academy Trust.
For more on my work at West Didsbury CE Primary School, please click here

Early in 2015, I was asked by Paisnel Gallery in St James', London, to help with the content and promotion of their biggest exhibition to date, John Plumb: A Retrospective. Paisnel specialises in 20th Century British Art, but they are unused to much press coverage. My role is to help change that and so far we've produced press releases, dealt with interest from national broadsheets, liaised with trade press and wrote a countdown blog. The successful exhibition opened on June 10, and since then I've worked with Paisnel on a number of other shows.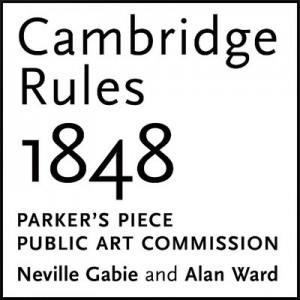 What's your favourite football story? Where do you watch – or play – the beautiful game? These are some of the intriguing questions an exciting new public art project I'm working on asks the world to answer, creating a truly global window on how football is experienced and has developed to become the planet's favourite sport.
So far on Cambridge Rules 1848, I've helped launch a website and press campaign at www.cambridgerules1848.com, on which people can leave their cherished stories of what makes the sport so special to them. Already, football fans from Buenos Aires to Preston have begun leaving images of their favourite ground, shirt – or even tattoo.
The Cambridge Rules 1848 website is a key part of a new public art commission by Cambridge City Council, supported by the National Football Museum and, shortly, an international partner. It commemorates the seismic moment at which football as we know it had formalised laws. First nailed to the trees surrounding Parker's Piece in Cambridge by a group of the city's University students in 1848, from there, the laws of the game spread to encompass every corner of the world.
Artists Alan Ward and Neville Gabie will also mark this moment in physical form on Parker's Piece with a large stone cut into nine, engraved with the original 1848 laws of the game in different languages. The four cornerstones stay on Parker's Piece, the others travel to five football-loving countries across the planet in a cultural exchange.
As the project continues, there will also be the chance for fans to upload their favourite football songs or chants, memorabilia and images of their local pitches. And in 2017, the football stories, images and sounds gathered from around the world will be displayed on Parker's Piece – celebrating Cambridge's role in the story of football – and will also be gathered together in a book.
So far we've enjoyed extensive press, tv and radio coverage.
For more on my work on Cambridge Rules 1848, click here.