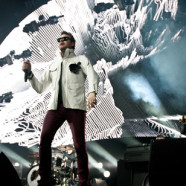 Feb

23
Tags
Related Posts
Share This
Indie rock's not dead yet. But is it dying?
>> I love Blur. But there was something seriously depressing about their show at the Brits on Tuesday. Damon Albarn essentially barked through a succession of 15 year old songs; meanwhile, sometime foe Noel Gallagher also featured. He at least played a track from his new album, but the subtext was clear: where are indie rock's new heroes?
It was a subject I touched upon when previewing Kasabian's gig in Dubai earlier this month. Often cast as the inheritors of Oasis's laddy rock template, sales of their records have nevertheless diminished sharply. Of course, falling sales isn't unique to Kasabian, it's happening across the board. But it's telling that young guitar bands these days aren't crossing over into the mainstream in the way that was once expected. Sure, there are minor exceptions – The Vaccines have done ok. The Maccabees' third album went Top 5 last month (when traditionally nobody buys records anyway). But does anyone seriously expect these two bands to be picking up lifetime achievement awards in 15 years time? Of course not.
There are many arguments for why this state of affairs has come to pass. Guitar music, at the mainstream end of the market at least, feels stale, and, arguably, has done for years. Excitement comes from the reunion of The Stone Roses rather than the brilliance of a new band. Buzz generally coalesces around slowed-down, electronic music these days, if Lana Del Rey and The Weeknd are anything to go by.
Still, maybe this is all just a return to indie rock's default position. When I was growing up, it was a triumph if an indie band made it into the top 20. Which, thinking about it, was actually a bit odd: we proudly wore our 'alternative' hearts our sleeves, but actually rather enjoyed it when, ahem, Ned's Atomic Dustbin got the seal of approval by appearing on Top Of The Pops.
All of which makes me wonder who is actually buying into indie bands these days? I hoped to be able to answer that at Django Django in Manchester on Monday, but it was cancelled. I suspect it might be people like me, who really rather like the fact that they sound like a brilliant hybrid of Hot Chip and The Beta Band.
Probably not a traditional "jangly" indie band then: their record is much more ambitious than that. But it was telling that when I saw Real Estate last Friday – their second album is lovely and probably conforms more readily to the traditional idea of indie music – they were almost insufferably dull. Perhaps that's the point; we now expect a bit more from our indie bands. Which, maybe, is no bad thing.
Click here for the full story on Kasabian and rock music sales in The National