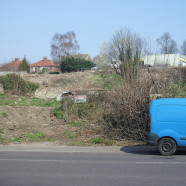 May

11
Tags
Related Posts
Share This
Edgelands nominated for Ondaatje prize
It's not the most high-profile of literary awards, but it must surely be the most esoteric. The Ondaatje Prize is awarded each year to the "book of the highest literary merit – fiction, non-fiction, poetry – evoking the spirit of a place". This can mean almost anything can be nominated – last year's winner was Edmund De Waal's The Hare With The Amber Eyes (the Costa-winning book which investigated De Waal's family history through his collection of Japanese netsuke). But Hisham Matar's In The Country Of Men has also won in the past – a novel detailing the ordeal of a nine year old boy living in Tripoli.
I'd argue that all the best books should naturally "evoke the spirit of a place", but I guess The Ondaatje Prize recognises writing in which location is as important as character or narrative. Anyway, one of the nominees this year certainly fits that bill. I reviewed Edgelands by Michael Symmons Roberts and Paul Farley last February for Metro. It's a non-fiction book which investigates what we consider "wild" in the United Kingdom, and finds a strange beauty in "allotments, railways, motorways and wasteland."
Admittedly, sometimes it's hard going; as I say in the review, it sometimes reads like the "lofty accompanying notes to a blustery audio-visual art installation about wasteland." But overall it's a lovely book to dip into when it feels like the world around you has become stultifyingly run-of-the-mill.
As usual, you can't link to Metro's book reviews online, so I've pasted the review in below. Edgelands is up against Rahul Bhattacharya's debut novel, The Sly Company of People Who Care, Olivia Laing's To the River, Teju Cole's Open City, Julia Blackburn's Thin Paths and Tim Robinson's Connemara. Oddly, The Ondaatje Prize's own website hasn't posted such information yet, so if you do want to know more, head to The Guardian's piece published yesterday.
May 24 update: Michael Symmons Roberts last night won the Foyles Best Book Of Ideas prize, awarded to "the book published in 2011 which presents new, important and challenging ideas, which is rigorously argued, and which is engaging and accessible." Edgelands, in proposing that we completely challenge the way we look at the world around us, certainly fits that bill. 
Edgelands by Michael Symmons Roberts and Paul Farley
Jonathan Cape, £12.99
Unloved business parks and canal tow-paths. Gravel pits and landfill sites. Any commuter will be passingly familiar with these wastelands, fleetingly glimpsed through train windows and unthinkingly driven past on the way to somewhere more important or traditionally "beautiful". Symmons Roberts and Farley's book, however, does more than just acknowledge these ignored places that are neither the city nor the countryside. It finds a strange, almost other-worldly beauty in them. After reading chapters on container parks or mobile phone masts, it's unlikely you'll ever look at overgrown buddleia in the same way again.
This is Edgelands. In much the same way that nature writer Robert Macfarlane argued a few years ago in The Wild Places that natural wonder isn't always to be found in areas of outstanding beauty, Symmons Roberts and Farley encourage a reappraisal of the places we know, but have discarded as being unimportant. But they're just as keen to emphasise the political and social history of these areas; growing up as they did in the North-West, there's a really nice line on the exciting mystery of the post-industrial terrain.
Throughout, the writing (fashioned in one voice) is pin-sharp – as you might expect from two published poets – and every page contains a thought-provoking, nuanced image. In fact, it does sometimes fall into the trap of reading like the lofty accompanying notes to a blustery audio-visual art installation about wasteland. Neither is there a sense of a journey of discovery, just bitesize vignettes on whatever they find in the margins.
In a way, though, this fits the fractured make-up of our towns and cities. And while Edgelands is crying out for some photographs, perhaps that omission is deliberate too. It's a book which begs us to use our imaginations, to appreciate what we pass by every day, but never really see.