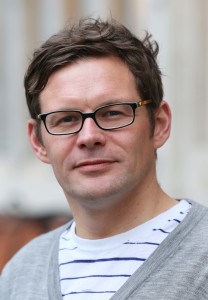 I'm an award-winning freelance journalist based in Manchester, in the United Kingdom. I'm most well known for writing about books – reviewing for The Observer and Metro and have a large portfolio of author interviews featuring everyone from Jeffrey Archer to Jonathan Franzen. In the past five years I've also specialised in fiction from and about the Arab world for The National, as well as interviewing Indian and Pakistani authors including Fatima Bhutto and Nadeem Aslam.
But nine years as an editor of Metro's Life section means I'm able to write about much more than just books – I review theatre for The Stage, and write about music and art for a number of publications.
I've also written about football and cycling for Sports Illustrated, travel pieces for a number of in-flight magazines and newspapers, and business and current affairs for Monocle.
I'm no stranger to radio either – I have been a regular guest on BBC Radio Manchester and BBC Radio Norfolk, talking about everything from culture to Norwich City, so am perfectly happy to give my opinions to anyone who'll listen.
Finally, I've successfully helped Leigh Sports Village raise their profile as part of a media relations role, which led to the highest ever attendance at the stadium during the Rugby League World Cup.