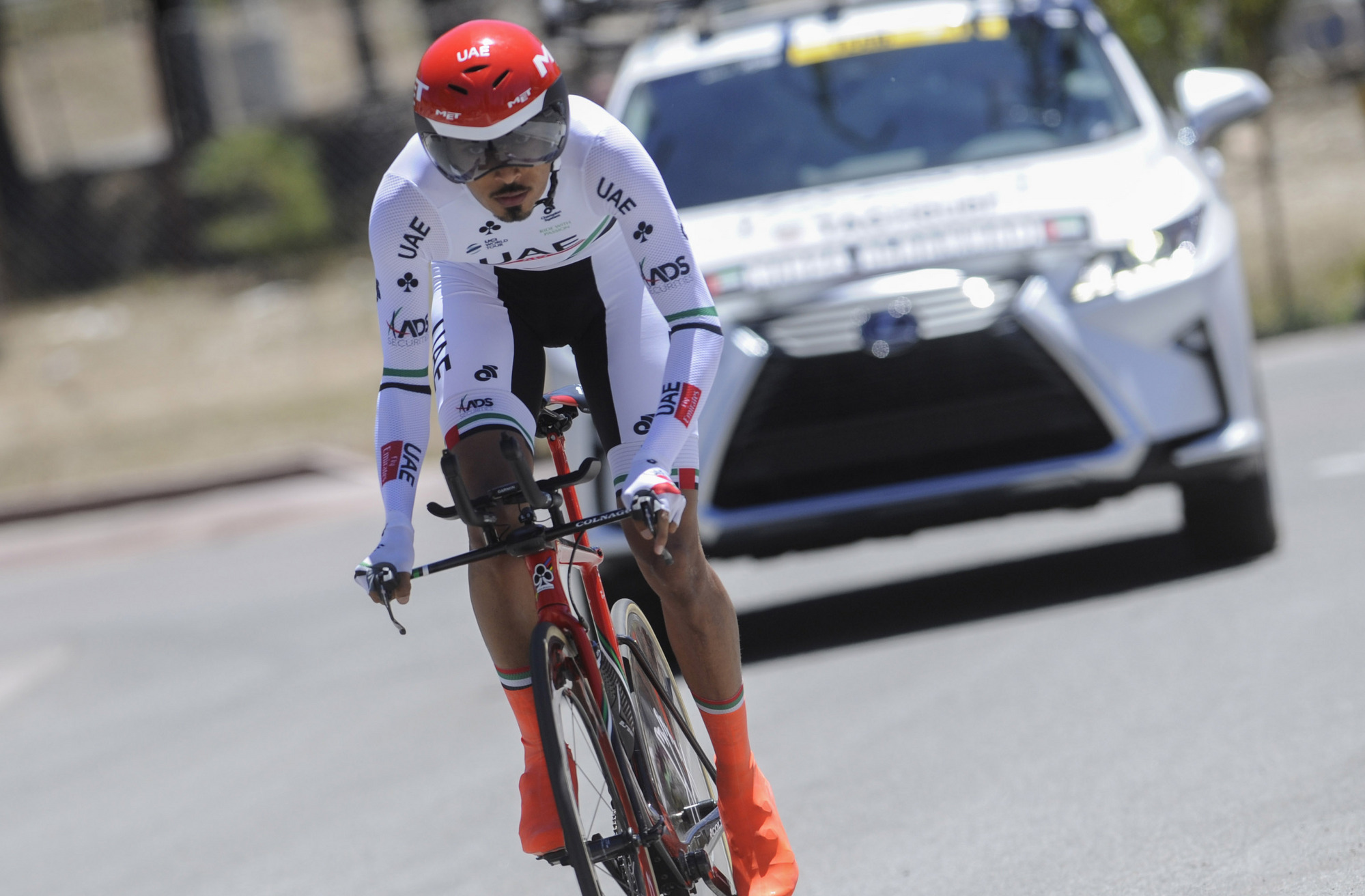 Emirates Man
It was a sunny May day in Sacramento, California, and Emirati professional road cyclist Yousif Mirza was pinching himself. To his left was reigning World Champion Peter Sagan – if cycling has a rock'n'roll star, it's this unique Slovak. To his right, German sprinter Marcel Kittel, who would go on to win five stages in this year's Tour de France. In front was Olympic gold medalist Elia Viviani. Mirza, however, has never competed at such a high level before.
"I was really nervous," he remembers, looking back on his first season competing at the highest echelon of the sport. "But to be among that company was just incredible. To be honest, after my first pedal stroke I was fine, I was into the race – and so pleased to get to the end a week later. It gave me confidence that I belonged."
Sitting on that Californian start line in the colours of the newly-formed professional cycling team UAE Team Emirates, it was also the culmination of a long journey for the Khorfakkan-born 28 year-old. He started to ride his bike as a nine year-old, and though he turned professional ten years ago, it was only in 2016 that he was actually part of a professional team (Nasr-Dubai) that regularly raced abroad; before then Mirza would enter regional races and represent the UAE in competitions like the Asian Games, winning silver in 2015.
By some distance the best cyclist in the Emirates – he's won the UAE National Championships for the last four years – he still admits that until recently cycling was a glorified hobby. So becoming the first Emirati to sign professional terms with a World Tour team late in 2017 – meaning that he would be in contention to ride in famous races like the Tour de France – was not only exciting, but a real challenge.
"I've been riding at a relatively good level for a while, but there is such a difference in every tiny detail now," he says. "The level and ambition of the riders, and the way they race, is completely eye-opening. All the racing is tough."
And professional cycling is generally regarded as one of the toughest sports – you need a combination of outstanding aerobic capacity, mental fortitude and sporting nous to endure the thousands of kilometres that make up a stage race: in this year's Tour De France, Irish rider Dan Martin was so injured in a crash that all his muscles went into spasm and he couldn't walk for days. His response? He felt lucky that his injuries "weren't that serious," and carried on.
That's the kind of commitment Mirza has had to show.
"For me, this year has been all about learning what is necessary to be in a World Tour team," he agrees. "What training I need, what to eat, how to react in races and be smarter in them. Then there's learning how to ride downhill, or even on the flat in Europe – honestly, the roads are different there, much narrower.
"Seriously, I have to track when I'm going to sleep, when I'm waking up, when I need to have a massage. You can't be an amateur about any of it. It's a great opportunity to be part of this team, and though it is really hard, I've really enjoyed it.
"It's great to be mates with fellow UAE Team Emirates riders like [former world champion] Rui Costa and Ben Swift. When I'm with them, I just feel more confident, and I learn something from them every day. When you train with someone like Rui, you see how the big riders have become successful."
What constitutes success for Mirza is a little more complicated. His role as figurehead of the UAE cycling scene means he's just as pleased that cycling is developing as a sport in the country, thanks to the visibility of his new team.
"The fact I'm talking to you now means cycling is in the news in the Emirates in a way it wasn't before," he says. "Now in Dubai and Abu Dhabi there are plenty of private cycling roads, cycle parks and clubs. We'll definitely see more Emirati professional cyclists, hopefully for UAE Team Emirates. The only downside is that you have to get up very early to train, otherwise it's too hot!"
Mirza, then, might be something of an outlier as an Emirati when it comes to the professional peloton, but a 13th place finish in the Dubai Tour earlier in the year – not a World Tour race but still attracting world class talent such as Mark Cavendish – suggests that he's there on merit.
"The focus is all on the Emirati riders in the Dubai and Abu Dhabi Tours, and that gives us pressure to show our talent so we can help increase the visibility of the sport," he believes. "But I'm happy with any race that I participate in for my team. When I pull on my jersey as an Emirati representing UAE Team Emirates I'm really proud, wherever it is in the world."
Which, theoretically, could mean the Tour de France in 2018. Mirza knows that he needs "time to to be stronger" before then: at the Tour of California, he ended up 111th and just over an hour behind eventual winner George Bennett. Which was not actually so bad given he was riding to help his Norwegian team-mate Vergad Stake Laengen to a very creditable sixth place. Impressively, Mirza doesn't think a place on the UAE Team Emirates bus for the most famous bicycle race in the world is completely fanciful.
"It's only my first season, and I still have much to do to improve my shape and level," he says. "But [fellow Arabic speaker on the team] Anass Ait El Abdia was picked for a grand tour – La Vuelta – so if he can, I can. He's not that far away from me."
El Abdia's tour of Spain lasted just two days, the Moroccan breaking his collarbone on the second stage. It's a reminder of the constant dangers of professional cycling – not that Mirza is likely to be put off.
"To ride a grand tour, I'd love that," he smiles. "So yes, why not. The first Emirati to ride the Tour de France. That would be nice!"