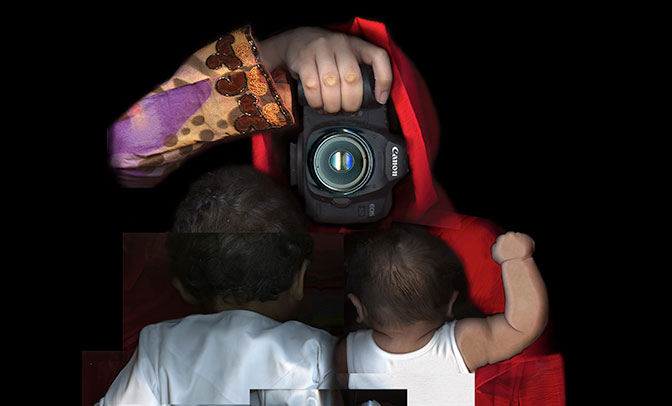 The aim is laudable: to promote and celebrate the many accomplishments of Middle Eastern women via a "peacebuilding exhibition". The location, though, is absolutely spectacular: 31 of the region's premier contemporary women artists displaying their work in one of London's most famous churches, St Martin-in-the-Fields, right on Trafalgar Square. Emirati artist Maitha Demithan can't quite believe one of her pieces takes pride of place in the foyer. "I feel honoured I've been chosen," she says. "It gives my work further opportunities to evoke thought and discussion abroad."
Which is absolutely the point of I AM, an exhibition from intercultural and inter-religious arts NGO Caravan which also wants to "challenge stereotypes and misconceptions about Middle Eastern women" as they deal with social, cultural and religious issues. Can art really change attitudes? Demithan certainly hopes so.
"Art definitely has the capacity to engage, to say something, to challenge and move the viewer to new states of contemplation. It's a subtle medium for conversation within ourselves and between artists and their audiences."
So what os the conversation Demithan wants to have with her striking digital piece, entitled Mother? In the image, a woman holds her camera and her two children – it turns out the woman is Demithan herself, the children her two boys.
Emirati artists should be constantly reading about art and visiting museums: there still needs to be more focus on education as this is what will encourage further growth
"The labour in motherhood, the labour in making art," she considers. "Since I've become a mother, I've found it extremely hard to make time, or spend time creatively. It made me feel helpless, and doubt myself as a mother – because sometimes I yearn to work on my art. It was a courageous step for me to create Motherbecause it is showing the world a vulnerable side of me which I am new to. But it's a message to prove that I am both a mother and an artist."
Demithan's work is certainly labour intensive. She employs a technique called scanography, where she uses a scanner to collate and collage parts of human figures and, later, reconstruct the entire image digitally. For her, it is more interesting than a straight photograph because it is "a record of a conversation… what does each image say, how does it say it, how does it connect to the other? I love the process because of its open ended nature – you can never predict the outcome. There's a playfulness, a sense of adventure – which in the end offers an emotive quality to the final image."
It is apt that Demithan should be showing Mother at her most high-profile international exhibition to date: she started her investigations into scanography in Dubai a decade ago with a self-portrait, too. Moving on to "family members and people she knows and has a connection with", her work has been shown at Tashkeeland XVA in Dubai as well as in Brisbane, Venice and Berlin.
All the while she's been at the beating heart of Dubai's rapidly growing art scene – and she is still in her twenties. "Everywhere I look in Dubai, there are people trying to help artists from all genres and the reach is expanding beyond the UAE," she says.
And that goes for Emirati artists, too.
"Work created in the Emirates at the moment is certainly progressing, but compared to international art it needs to be stronger, both conceptually and technically – and I include myself in that. Emirati artists should be constantly reading about art and visiting museums: there still needs to be more focus on education as this is what will encourage further growth.
"Still, I feel that I am amidst a renaissance, and I am so glad that I am a part of it."
I AM is at St-Martin-In-The-Fields, London, until August 20. It transfers to American University Museum at the Katzen Arts Center, Washington DC on September 8 and tours the United States in 2018.
In Dubai, Maitha Demithan's work is currently on display at the Women's Museum, La Serre restaurant, and Manzil Downtown hotel.