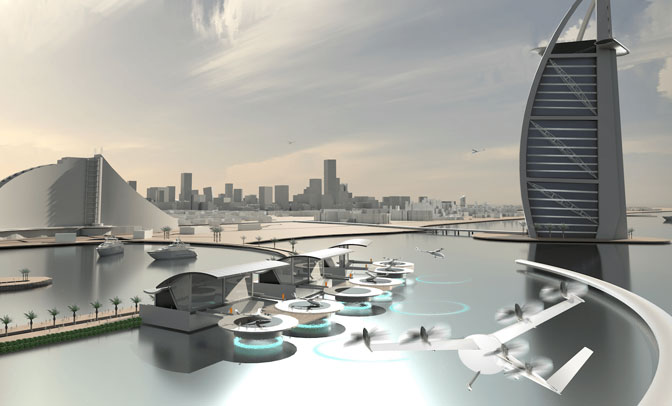 It has always been the stuff of speculative science fiction. In the metropolis of the future depicted in Blade Runner, The Fifth Element or even Back to the Future, trips around the city aren't tethered to the congested roads of the ground, but take place in the air, sleek flying cars whizzing people to their destinations.
The future, however, might be closer than we think after ride-sharing company Uber announced plans to test an on demand network of electric vertical take-off and landing vehicles (VTOLs) – with the aim of having a demo ready for Expo 2020 Dubai.
And Uber aren't the first to reach for the skies in Dubai. Chinese drone maker Ehang believe their passenger drone developed with Dubai Roads and Transport Authority (RTA), will make its first flights in the emirate as early as this summer.
Uber's system, called Uber Elevate, was announced at its inaugural Elevate Summit in Texas late last month. Its Chief Product Officer explained the company's motivations and decision to partner with Dubai: "What started as a simple question 'why can't I push a button and get a ride?' has turned, for Uber, into a passionate pursuit of the pinnacle of urban mobility – the reduction of congestion and pollution from transportation, giving people their time back, freeing up real estate dedicated to parking and providing access to mobility in all corners of a city.
"Urban Aviation is a natural next step for Uber in this pursuit."
Uber also announced a series of partnerships with aircraft manufacturers already working in the market to "help us achieve the Uber Elevate mission requirements".
Initially at least, it's unlikely that you'll be able to pick up an Uber Elevate VTOL outside your office and get the pilot to fly you home. Their idea for transforming urban mobility in Dubai and other cities is, for now, a network of VTOLs and what it calls Vertiports and Vertistops.
Vertiports would be large, multi-landing locations for multiple VTOLs and their passengers – a bit like a heliport but on a smaller scale. Vertistops, meanwhile, are where you could be dropped or picked up quickly – for example, the helipad on the top of the Burj Al Arab. Uber admit that the greatest barrier to deploying an Uber Elevate fleet in a city is less the technology but the current "lack of sufficient locations to place landing pads." Still, theoretically any flat roofed building or car park could be a vertistop.
If, of course, the neighbouring buildings granted permission to fly over their property. It's just one sticking point in what is, for all the excitement around "flying cars", a regulatory minefield. A VTOL could completely change the way we experience congestion, given Uber's suggestion that an airborne journey wouldn't need to follow a fixed route. But comprehensive Air Traffic Control systems would still need to be in place.
Meanwhile, there will need to be a certification process to ensure passenger, pilot and citizen safety, and the pilots themselves would have to be trained (although the intention is clearly for the flying cabs to be driverless in years to come). And for Uber Elevate to alleviate fears over emissions and noise, electric battery technology will need to improve.
Uber's partner in Dubai is, like with Ehang, the RTA: an important operator to work through the necessary legislation given it is an integral part of the emirate's stated plan to transform Dubai into the smartest city in the world.
One of the RTA's first roles is to fund a study on pricing and demand – the crucial factor in the creation of any new transport initiative. Uber admits that it's only in the long-term that VTOLs will be an affordable form of daily transportation for the masses. But, as it said in its research paper, "the high cost should not end up being prohibitive to getting started… the vision portrayed is ambitious, but we believe it is achievable in the coming decade."
As do other companies. Californian startup Kitty Hawk, backed by Google co-founder Larry Page, believe they can sell their aerial vehicle by the end of the year – although its engineer Cameron Robertson has said it is more of a concept of a possible future than a finished product. Aerospace giant Airbus has announced two VTOL plans that it hopes to test soon. And it will be fascinating to see how what the appetite is for Ehang's passenger drone in Dubai. What is certain is that the technology will happen; it is just a question of when.
As Uber's Jeff Holden said of its projects: "Starting today, Dallas and Dubai are racing to the future and we can't wait to see how on-demand VTOL flight accelerates these great cities."
Why social media CEOs want to fly
At any given time there are up to 15,000 aeroplanes crossing our skies. But for all that might suggest flight is becoming an increasingly prosaic mode of transport, the sheer magic of leaving the ground behind and soaring over the horizon still has the ability to captivate – and potentially make money. Which is possibly why so many newly-inked multimillionaires have designs on the sky.
Skype co-founder Niklas Zennström invested £8.4m late last year (via his venture capital firm) in German startup Lilium, which plans to build a lightweight commuter VTOL aircraft driven by electric fans – exactly the kind of machine Uber are likely to be interested in.
In a similar vein, Mark Zuckerberg of Facebook has been instrumental in the development of the solar powered Aquila drone, to the point where test flights have been deemed a success. Designed to fly non-stop for three months and with a huge wingspan, Aquila will use lasers to beam down internet access to 4 billion people in sub-Saharan Africa and other remote regions.
Staying with unmanned aerial vehicles, in 2015 Twitter were awarded a patent for a drone which would take photos and video, offering users the ability to automatically stream aerial content to their timeline – although CEO Jack Dorsey has yet to make any commercial announcements about the project.
There's a similar veil of secrecy about a Snapchat drone, which would also take overhead video and photographs and feed them into the user's app. But with Snap CEO Evan Spiegel recently suggesting that the humble camera could still be reinvented, it would not be a surprise to see the social media company move into hardware.
Certainly drone technology's potential offers social media CEOs the chance to be innovative with their established brands and develop 'killer apps'. With Twitter, Facebook et al seemingly as popular as ever, expect these visionaries to be seen in their own flying cars in the years to come…