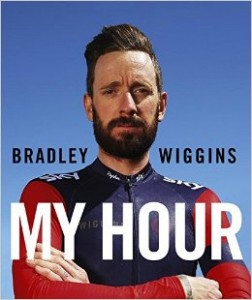 First published in The Observer, December 27 2015
When Bradley Wiggins attempted to break the record for the furthest distance cycled in one hour last summer at the Olympic velodrome in London, the sell-out atmosphere was more akin to a febrile boxing match – Wiggins came out to The Supremes' Motown classic Stoned Love, had crew-cut his expansive quiff and then displayed superhuman powers of endurance.
My Hour, written with cycling author and journalist William Fotheringham, gets to the heart of not only what it took technically for Wiggins to get to 54.52km, but crucially, how his mind was as important as his legs and lungs. Essentially, Wiggins has spent an entire career breaking down agonisingly long efforts into more manageable chunks, and the structure of the book cleverly mirrors that process of tricking the mind.
The slick photography dotted around My Hour lends it a coffee table feel and the little asides into Wiggins' heroes who also attempted the hour (Merckx, Coppi, Boardman) are not only heartfelt but neatly emphasise his deep need for the record. Fascinating.
My Hour (Yellow Jersey) is out now