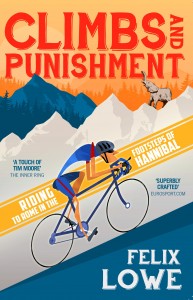 Any half-interested cyclist's inbox will be full of them. Rapha's Randonnée e-mails offer the chance to spend a week on smooth European tarmac, of putting "all focus on riding and the company of your fellow riders," the stresses and pressures of normal life fading away, priorities changed for the better. Meanwhile, Sports Tours International promise the opportunity to "follow in the tyretracks" of famous cycling legends.
The organised cycling trip is becoming increasingly big business among the Mamil set – a chance for fortysomethings (and above) to live out their dreams of suffering like their heroes on famous European climbs, while dining like a king each night in a selection of Les Plus Beaux Villages De France. In short, it's the stuff of insufferable anecdotes for everyone who hasn't had the fortune, time or indeed money for escapades that smack slightly of the midlife crisis.
So it's with some trepidation that one approaches Felix Lowe's Climbs And Punishment, at face value the account of his experiences on Ride & Seek's 27-night Hannibal Bike Tour from Barcelona to Rome. It does indeed take in some of the most iconic climbs in the sport – and costs the best part of €10,000. Thankfully, Lowe not only regularly pokes fun at the entire undertaking – "the realisation dawned on me that I had booked a place on a Saga cycling holiday" – but his time writing for the likes of Eurosport (Lowe' is the channel's "Blazin Saddles" blogger) means he knows how to construct a coherent, amusing and, most importantly, inclusive narrative.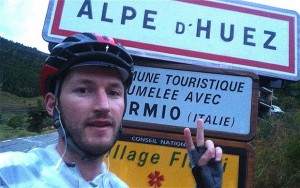 Partly, this is achieved through Lowe's regular diversions into the professional cycling circuit. In 2012, the Tour de France went up L'Alpe D'Huez twice, so Lowe does too – despite fading light. Not only does he effortlessly convey the sense of his own achievement, he vividly describes what it must have been like for Froome, Van Garderen et al – and what makes this ascent so special in cycling legend. Blazin Saddles' avowed mission to offer a 'lighter take on the oft-grave world of professional cycling' means Lowe does sometimes lapses into matey punnery – there are a few too many poo jokes for comfort – but generally the segue between his experience and the pro peloton is really well judged.
There's also a neat element of travelogue here too, as Lowe eats his way through a succession of delightful meals in picturesque settings across Spain, France and Italy. The asides detailing Hannibal's excursion across the Alps thousands of years ago are less successful however – nicely researched and thoughtful though they are, the comparisons with Lowe's trip on an expensive carbon bike feel forced and unnecessary.
As Lowe's group of elderly riders (he is 30 years younger than a number of his companions) struggle manfully through France, they're joined for a time by a speedy Australian cycling club who race each other for the signs on the outskirts of villages. It's here where Lowe's book could really come apart – we're hardly talking the drama of Hinault vs Lemond here, after all – but it's a measure of the goodwill that he's built up that there is a sense of genuine pleasure when Lowe finds that he's actually quite good at riding up hills.
And that is the real joy of this book. An account of someone else's cycling trip is a minefield of irrelevance, but Lowe's amiable approach makes it seem like it would be the most natural and exciting thing to do in the world. Finish Climbs And Punishment and you'll immediately want to get on the bike, which is, in the end, the highest praise indeed.
Climbs And Punishment (Bantam) is out now in paperback