In November 2012 I was asked by Leigh Sports Village to assist with their media and PR strategy in the run up to the biggest event in their history, the Rugby League World Cup match between Tonga and The Cook Islands in November 2013.
The agreed aim was clear – to engage the local community in the game first, and then broaden out the appeal as the match approached. Connecting with local newspapers and radio stations was crucial, and we encouraged the participation of Wish FM and BBC Radio, the latter broadcasting rugby league shows live from LSV in the run-up to the game.
As the countdown clock turned from months into weeks, Twitter and Facebook were used really effectively to encourage our followers to buy tickets for the game and promote a feeling of open-ness and excitement. Instead of repeating the same message over and over again, I began a daily countdown blog on a revamped Leigh Sports Village website with new content and interviews with stars of the game every day. I also arranged for Tongan players to visit local schools to ramp up the excitement.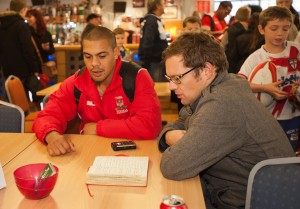 And on November 5, Leigh Sports Village was  full to the rafters for the Rugby League World Cup match between Tonga and Cook Islands. With the people of Leigh taking the Tongan team to their hearts as they trained at LSV and visited schools and young rugby teams, a staggering 10,544 fans flocked to see the game: a stadium record attendance, and the biggest midweek crowd for a RLWC game in the entire tournament. 
The work on the Rugby League World Cup broadened out into other campaigns for Leigh Sports Village: the venue hosted the Tetley's Challenge Cup semi-final for the very first time, and in September, the Kingstone Press Championships Finals Day came to town, with Sheffield Eagles, Rochdale Hornets and Leigh Miners Rangers taking home the silverware.  "It was an absolutely fabulous day for Leigh Sports Village," said Chief Executive Simon Toon. "We were delighted to host the finals day, and showcase the stadium. The atmosphere in and around LSV was fantastic, with extremely positive feedback from the fans, who were telling us they were really enjoying their day." 
I wasn't just involved in rugby league: Blackburn Rovers U21s play their fixtures at LSV and I've helped promote those games using the methods that worked so well during the RLWC – and they enjoyed their biggest crowd in 18months last December. Manchester United also took on Shakhtar Donetsk in the UEFA Youth Cup, and happily, it was a record crowd for the Red Devils at this level.
As Simon Toon said: "Leigh Sports Village has genuinely established itself as a world class venue [in 2013], attracting massive crowds to see some of the greatest sporting teams in the world and we're really delighted the feedback we've received from the local community. They tell us that because of hosting the Rugby League World Cup – and our announcement of the Elton John concert next year – they now feel proud to be from Leigh, that the events here in 2013 and 2014 are putting the town on the map. And that's what we're all about."