The announcement of the forthcoming season's fixture list is always an great moment for football supporters, but for me the real excitement comes when the tickets for the first game actually go on sale. Ballots can be entered, plans can be made, the anticipation starts to build. After all, the first game of the season is, in theory at least, a genuine occasion. New players to see, new systems to appraise, and it doesn't really matter too much if your team loses, as long as there's some sort of sense that they know what they're supposed to be doing. And even if they do lose 7-1 at home, well… that's okay in the end too.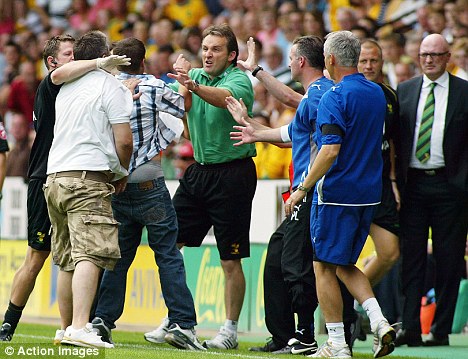 And then I saw how much Fulham were charging Norwich City fans to sit in the away end on August 18. £40. This is a team who finished ninth in the Premier League last season and whose one potentially world-class player, Clint Dempsey, probably won't be there at kick off. Premier League moneymen often talk of prices such as these being fair for world class entertainment, but with the best will in the world, watching Grant Holt grapple with Brede Hangeland is not a proposition akin to Messi running rings around Sergio Ramos. It's barely even the same sport.
Of course, I'm not the first to point out that watching Premier League football is becoming an expensive habit. But to me at least, £40 is a tipping point, a point at which I genuinely want an experience to remember (which still means seeing Norwich take on a big club at a famous ground) rather than just another game of average football.
Will this be the season Norwich's away support starts to dwindle, despite the excitement of being in the Premier League? Perhaps so. Take a look at the Northern Canaries Facebook page after the ticketing details went online. "I need to select what games I go to now," said one. "I will always be City through and through, but I have purchased a Macclesfield season ticket this year for £220," said another. For me, it made my mind up: I'm not going to renew my away season ticket if this is the way it's going to be. I'm also not going to buy a casual ticket for Fulham.
And yet, last month, we heard that the new Sky TV deal means that clubs will be paid at least £60m a season from 2013 – and that's just from the domestic rights. Stay in the Premier League, and your team coud end up sharing a staggering £5bn over three seasons. At the time, Norwich fans noted the importance of staying in the division for the financial security it would give the club. But it was Richard Scudamore's quote which said it all. "Priority number one is retain and attract top talent but there ought to be a way of doing that while achieving sustainability. Some of it ought to be used to reduce losses".
Not one mention of the fans or ticket prices.
Is it too romantic to suggest that the people who make the Premier League what it is aren't the players, but the fans? When I asked the people who run Manchester City earlier this year what possible benefit all their much vaunted matchday 'experiences' had for people watching in New York, Abu Dhabi or Singapore, the same mantra was repeated over and over again. People like to watch exciting football, but they also like to see the emotion, the excitement, the colour of rival fans in full stadia. When even Manchester United are advertising casual tickets for forthcoming games in the local paper, you know something's up.
But then, maybe the clubs aren't actually that bothered if their stadia aren't completely full. Going back to Fulham, only 15 per cent of their turnover is from gate receipts and match day income. All of which suggests that ticket prices aren't the major driver of a club's financial viability at Premier League level, it's the act of staying in the division itself (and attempting not to spend all your income on players and their wages). An incredibly revealing piece on The Swiss Ramble suggested that by the end of the new TV deal, 92 per cent of Wigan's income in the future could be derived from television. They could effectively let people in for free and still make money.
And yet in the 20 years since the Sky money began to roll in, ticket prices have still increased by up to 1,100%, while the players and their agents take home the lion's share of the cash. Something is terribly wrong.
So here's a small suggestion that could easily make a difference. Sky pay a "facility fee" to the host club every time they show a live game. This £485,000 payment is over and above the millions each club receive every season. Obviously I don't have the figures, but knowing a little about broadcasting, I cannot believe it costs Norwich City even £85,000 to host Sky on a Monday night. How could it possibly harm anyone if, on announcement of a live game, Norwich used some of the £400,000 remaining to subsidise the 5,000 casual seats available, after the season tickets have been taken into account. Even taking as much as £15 off the casual ticket price – quite a lot, all things considered, would only cost the club £75,000. And it might entice people who would otherwise have watched it in the pub to do so at the ground.
It would be a really impressive move. Of course, it won't happen, because at the moment Norwich sell out more often than not. But when struggling to stay in the division, which is basically all a club like Norwich can really aspire to, gets boring, will we live to regret making football a premium product, when there's enough money around to make it more accessible than it's ever been? I think we will.